The Lincoln Series
The Lincoln Series Equipment line covers a full range for the Self Serve Industry. Our customized industrial grade car/truck wash equipment package offers standard systems for one to 12 bays, which can be expanded to fit any wash requirement. We use proven components to provide ultimate quality and reliability for years of trouble free operation.
The Lincoln Series Wash equipment is designed with only one criteria: Make it the best self-serve wash system possible.
Standard Features
ETL/QPS approved main control panels
High Pressure Pump Options: General, CAT, Giant
Heavy Duty Aluminum Pump/Motor/Tank Control Stands
Stainless Steel Rinse & Chemical Tanks
T.E.F.C. Electric Motors, 3 or Single Phase
Stainless Steel Belt Guards
Stainless Steel KIP Chemical Solenoids
Stainless Steel Overhead Spring Booms
Theft Deterrent Stainless Steel Coin Boxes
Electronic Coin Acceptors (accepts multiple coins)
Graphic Lexan Wash Instruction Signage
Breakaway Wand Holders
Stainless Steel Mat Clamps
Weep/Non Weep Trigger Guns
Options
Vacuum
Air
Tire Cleaner
Engine Cleaner
Low Pressure Presoak
Bug Prep
Soap
Foam Brush
Hot Rinse
Tri Colour Spray Foam Wax
Turtle Wax
Turtle Wax Ice
Spot Free Rinse
In Bay Credit Card Swipe
Low Temperature Weep System
In Bay High Volume Air Dryers

Auto dealerships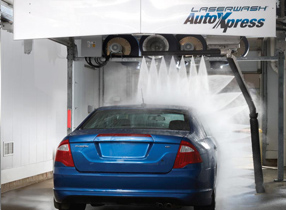 D.A. Lincoln Pump Service and Supply is proud to offer the PDQ LaserWash Express. PDQ has designed an affordable automatic carwash designed exclusively for the auto dealer market. It incorporates advanced touch-free technology to provide you and your customers with a quick, exceptional clean that is unsurpassed by any other automatic car wash in the auto dealer industry.
Easy loading process – No attendant required
Fast wash speeds with up to 23 vehicles per hour
Low fresh water consumption with as little as 21 gallons/wash
Touch-free washing eliminates brush contact with vehicles, minimizing damages
Cleans all production vehicles even your largest SUVs and trucks, including duallys
No hydraulic systems, which are prone to leaks
Simple design lowers maintenance expenses
Local service for quick response and maximum up-time
PDQ ProTouch Icon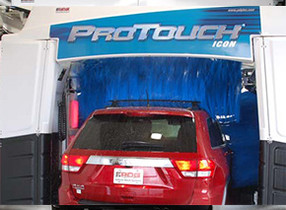 The PDQ ProTouch Series just became a more formidable force in the friction in-bay automatic car wash industry. With the introduction of the ProTouch ICON, PDQ is now capable of offering another option to meet all of your soft-touch in-bay automatic needs. The ProTouch ICON is a new three-brush gantry-style system that offers superior aesthetics, a larger wash envelope, next generation brush control precision, amazing illumination packages and revenue generating features that are synonymous with all PDQ car wash equipment.
The ProTouch ICON was engineered to deliver incredible cleaning results using several "industry first" innovations that are unsurpassed by any other gantry-style rollover on the market today. ProTouch ICON – the next generation in vehicle cleaning systems – by PDQ Manufacturing, Inc